i just realized that i spent another weekend NOT in a bar, but at home, office, or at the streets (shopping, playing dumb, staring at lv window display ~haha. kidding)...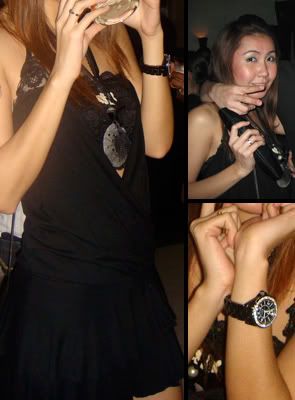 there's so many nice bars in
Shanghai
that i haven't been to yet, and we had all been too lazy to go out (damn cold weather!). now that spring is
finally
here (
or so i hope. one moment its warm&sunny and next thing you're underdressed&freezing again!
) i wish i could get my slice of nightlife/partying again!.
dress: topshop. lace bandeau: somewhere. neckpiece: cebu, philippines. clutch: i forgot. (its in my place in manila). watch: chanel. ring: gift from mom. vintage earrings & shoes: bangkok (not shown. ugh editing skills!).
a glass of bailey's, piedra, fort, manila.