shanghai weather: chilly/cloudy
am i that jaded? because i feel like im the only one who bought these (white) loafers in h&m last weekend...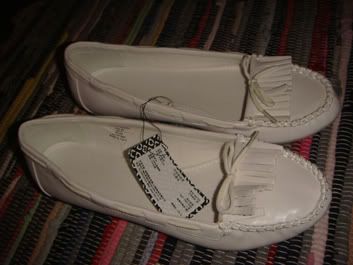 and from what i remembered before, every time i see something white + flats + leather, it screams NURSE to me! 
???
but last saturday, i actually thought it has some-kind-of-a potential.. and there was also this sort-of a "bubble picture" popping out from my mind...... "
me + loafy walking / commuting around the streets, going through thick and thins, shopping.. etc. and the best part is, my legs don't hurt!" 
ilove heels believe me, BUT i also love comfort! :)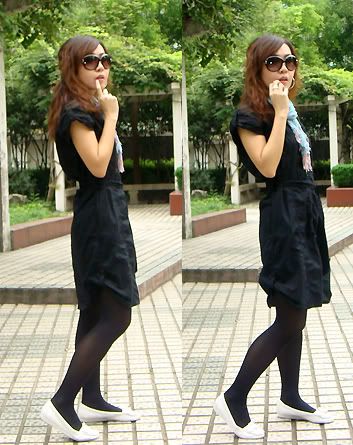 so i really don't care if they look like nurse shoes, whatever...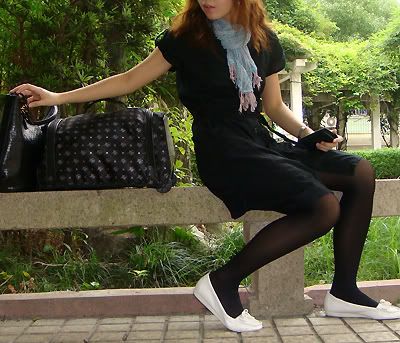 i also met my cousin's gf earlier who went in
shanghai
for a tour. we had dinner (with her brother and some friends, all shanghai-based filipino-chinese) in
hengshan cafe
.. typical good food lauriat chinese dinner, which includes at least 10 dishes (oh, you know). 
she was really nice to accept my favor of bringing here some of the shoes i left in manila, and also bring home this big bag with her (which consisted of winter clothes) aaahh.. i really need to start sending my stuffs home!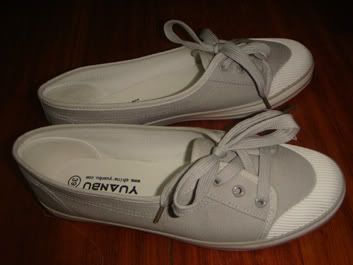 and after we parted and kissed / hugged goodbye... i saw these flat gray sneakers around the streets, and couldn't resist the $9 tag! well, everyone needs COMFORT shoes right? :)
buttoned-down dress, loafers: everything h&m. scarf: gift from bangkok.