i haven't been going around the blogosphere for a while.. just visiting a blog or 2 a day... i have so many things in my head, and stuffs that i need to finish and/or settle. my mind's mostly
blank
, and im mostly in a stare...
but as i was browsing through my past albums.. i saw this.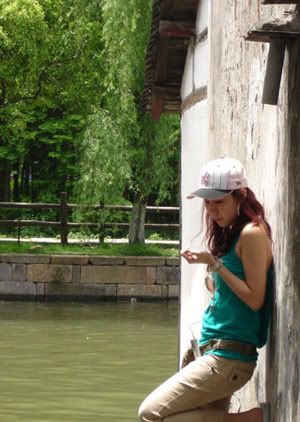 (the photo was taken from
hangzhou, china
may 2006
.. i realized i should be blogging here since ~haha.) anyway... i was obsessed with baseball caps then, and i bought this one from
hongkong
. i still have alot at home (but was soon "stolen" by my male cousins huu..) and i remembered
even
saving (before) of getting myself
more
von dutch and ed hardy's.. until i realized it wasn't really cool wearing one in
manila,
as it was in
hk
/
china
.
WHY
?
because usually, when i wear baseball caps here, they thought i was korean (or maybe because my bff was korean?) and i was having fun with all the guessing games ~hehe. while if im in
manila
, they thought i was just a stupid "tomboy" whatever...
so i looked through korean street style (now) again, and they're still into it. i usually ask myself, "
whats with koreans and baseball caps?
"
and if im not mistaken, all my korean classmates (male and female alike) also wear them, if not 24/7, at least 5x a week!
do you know why? or am i
that
bored for even asking this? (haha.. yes.. i am so!)