in celebration of my 24th birthday... i decided to be patriotic to my grandfather's country - CHINA.
but i was really planning of dressing "pretty" today.. you know, some floral dress or some sorts.. but since its casual friday, and i need to be at work, why not dress casual? (yah, its some sort of an excuse to be lazy!)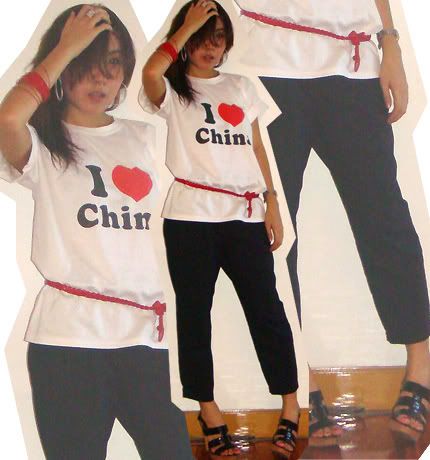 and indeed, people were amused and a bit shocked! but i guess i made my boss's smile as well.. cos even though i'll be leaving soon, they thought the logo T speaks for itself. and don't worry, i actually looked prettier and more decent in person! :) conceited? yes! and sorry for the lame picture, i have no time today... parties and all :) ~
teehee
.
PS. im waiting for your generous gifts, and monetary donations are much more appreciated :)
top: shanghai. trousers: h&m. shoes: zara. belt: h&m.