if there's one thing i hate about living in
Shanghai
before.. it would be the expensive movie tickets! plus the 2-3 months delay on hollywood movies (they need to put chinese subtitles first) and asian snacks instead of popcorns/ fries/ tacos / and/or anything junk food! i'm a movie freak... and i need my dose of 1-3 movies a week! (^.^)
hence, i ended up watching "
You Don't Mess with the Zohan
" (feat. Adam Sandler) today after dinner :) and it was really funny! but kind of weird/gross in some way, for my taste. i also can't stand the the hairstyle and clothing... but the movie, overall, made me laugh soo hard i kept jumping on my seat, and spilled sour cream sauce over my clothes! yeah... "
e
at me?
"
also today's outfit: i dug up this jeans i haven't worn since univ. days (which was 3yrs ago), and the belt i got from Dorothy Perkins a year back (that i haven't actually worn until today). i don't know why i look so short considering my heels is over 3"?? and in
pink
again, knowing its one of the colors i actually hate.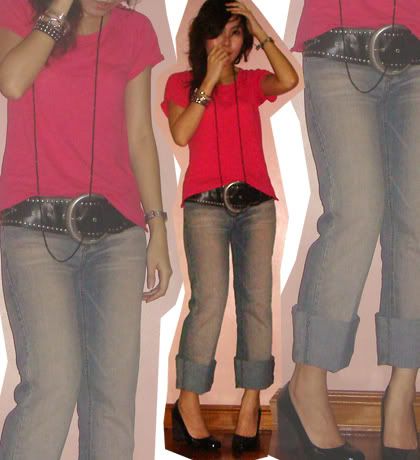 i'm also in need of "white tops" supplies since i messed/ stained / ruined most of them in my wardrobe :( i think its best to buy 2-3 pcs per style no?
(i know the jeans aren't really rolled-up, but they're
super
long!)
top: h&m. jeans: moto, topshop. shoes: h&m. belt: dorothy perkins.
ps. indoor, crappy pictures have to suffice for now.