after the long wait, i finally wore the coveted h&m maxi dress! :)
which was really UNintentional since i was planning on wearing a different outfit (my sister called it,
"ridiculous
!") last sunday night for a wedding at rockwell tent.
honestly, i just bought it last Spring (out of luck, since i saw it from
agathe
's blog weeks before that) so i could STARE at its gorgeous prints and nothing else. it was spring then, and
shanghai
has a reputation for
awful
weather. i brought it home on my vacation in manila last may, and forgot to bring it back again (w/c i totally regretted cos summer suddenly came in SH after i arrived).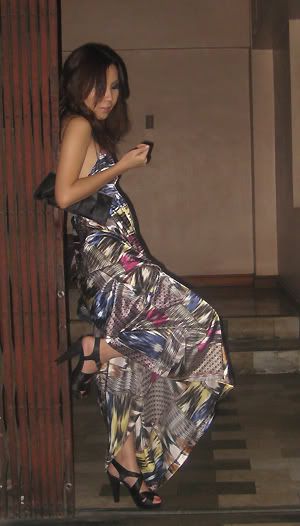 and then i FORGOT even owning them. it was stuck at the back of my closet ever since.. until i had this "
i have no dress to wear"
moment and started pulling stuffs out of my dresser! take note: i was already teary! (@.@)
i didn't had the time to fix it (it's too long even with 4" heels!) so i kept pulling it up like a wedding gown! well, i honestly think it made some kind of a 'dramatic' effect, like "
who's that girl in the gorgeous gown
?" - unless that was my mind talking! ~
haha
.
to make the long story short, i'm just happy my sister pulled this one out because, knowing me, i'd probably wear it after 2 years!!

and to top it all, my friend (who's a makeup artist) was also 'just too bored' that day she played with me and my sister's face. i had always loved smokey eyes, but could't make them myself... so here,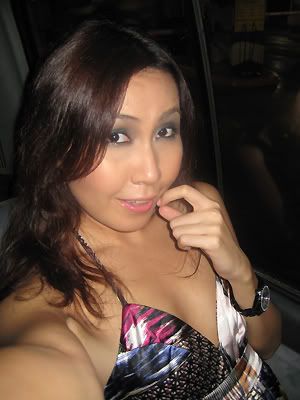 i also liked what she did with my lips (nude beige + light pink) since i'm such a _____ with lip stuffs! (sorry, i took this picture after the party and eventually had it washed up & put lipgloss over) and did i mention she charged us for FREE? ilove it when people are bored! :)


dress: h&m. shoes: h&m. bag: gifted.