and to make matters worse, i'm feeling the effects of my post-halloween gluttony, and is now POISONED! huuu.. i have a very sentisitive stomach.. i'm such a weak baby! :(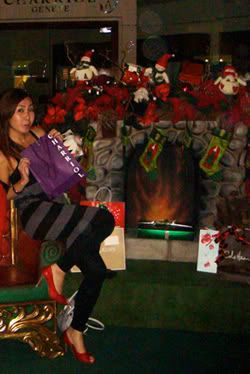 anyway,
jolly
Christmas season is coming its way... and i really don't know what i want still! maybe i need someone to knock my head off? so i can start 'doing' things... instead of bumming around and checking the internet for potential buys (tsk tsk.. u can never really underestimate cosumer's buying power, even if we're currently undergoing crisis!). and i just discovered that i
want
(note that i don't need it) too many things in my life that its becoming too 'parasitic'. just when i thought i don't need another handbag or the sorts, i'm currenlty yearning for more.. and more shoes, and dresses (which really, are just stucked in my closet!), and makeup's etc. its ironic because i don't normally go to social events like i used to (from my past job/ and when i was indeed
younger
), so in reality, i don't really have a need for these things... until i checked the internet.

aaah... i love everything in this picture (except for the flowery top)! i heard H&M is coming its way here, but then, why suddenly no one talks about it?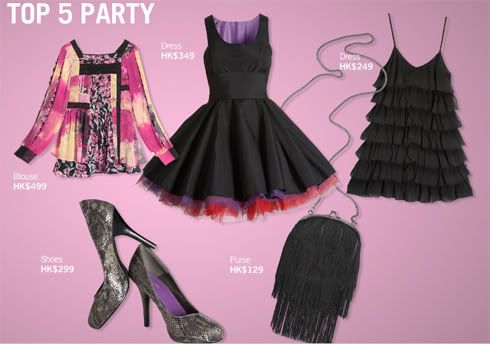 i really want to
dress up
for the holidays this year, even if i don't end up with new gifts. i spent the holidays in
shanghai
last year, *quote and quote* working... duh. so i'm really excited to be able to spend it with my friends and families this year!
PS. Did you know that Bernard Arnault, who owned almost 50% of the LVMH (Moët Hennessy Louis Vuitton), CEO of said companies including Dior, Fendi, Moet & Chandon etc. also owns 40%++ shares in Duty Free, Carrefour, bought out owners of said luxury brands, and was responsible for all the un-glitz and glamour we now see in luxury brands today? Yup, I'm having such a treat with the book im reading! :) that it affects (greatly) how i see marketing & consumers today.