i don't know what is it with PURPLE that i had been using the color a LOT lately...
and also with my old clothes, cos i had this skirt since college! (
but i love them
!)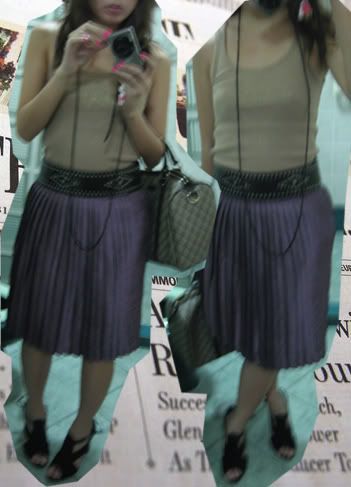 (gold tank from mango. pleated satin skirt: tango. juan shoes, dorothy perkins belt. gucci joy boston. and my overused cheap, black, strand necklace which i had been using forever!)
and i'm also thinking of selling this tank top cos its making my un-existent breast appear flatter!
haha kidding
! but i think its the gold
thing
that's making it tighter... thus...
and oh, btw. i said i wanted those MAC eyeshadow palettes, but i got these first!
coastal scents 78 palettes!
isn't it gorgeous? i got them on ebay.ph and was lucky enough to pay only $19+ plus shipping! the colors are sooo
yummy
!
....
my sister "
might
" go to
New York
this December, while a family friend is flying to
Italy
after Christmas... my head's already spinning! i don't know what to ask them!!!
or maybe one of these if i get lucky....